Durable and pore-free components by drop forging
Drop forging creates forgings with an optimal fiber alignment and first-class strength. The forgings convince through a homogeneous, dense structure, which has neither pores nor other cavities.
Forgings are reproducible with only one tool in large numbers at constant precision.
With over 40 years of experience in drop forging, we have excellent expertise in this field and are the ideal manufacturer for you. According to your ideas and goals, we determine the process, alloy and the properties of the component in a joint consultation.
Advantages of drop forging
Ideal for complex shapes
High reproducibility
Longevity
Homogeneous structure
Short processing time
All about Drop Forging by Richter Formteile
Testing options for forged pieces
3D laser or measuring probe
Impact strength
Yield point
Chemical analysis
X-Ray
Fluxing
Ultrasound
Tensile strengths
According to customer requirements
Surface treatments of forged parts
Radiation
Electropolishing
Galvanizing (chrome-6 free)
Passivation
Paint
Powder coating
Anodizing
Prime
Vibratory finishing
CED coating
Sand or glass bead blasting
Facts about drop forging:
Certified acc. to:
DIN ISO 9001, 14001, TS 16949
Materials:
Steel, stainless steel alloys and aluminum
Post-processing:
Own CNC processing centers, heat treatments according to customer specifications
Approvals in the fittings area:
Die forged materials
In general, all kneadable metals can be used after they have been heated. These include steel, magnesium, aluminum, stainless steel as well as brass, copper and their alloys.
Contact
Our contact persons have the answer. In a joint discussion, we clarify all relevant points in order to get you to your individual moulded part as quickly as possible.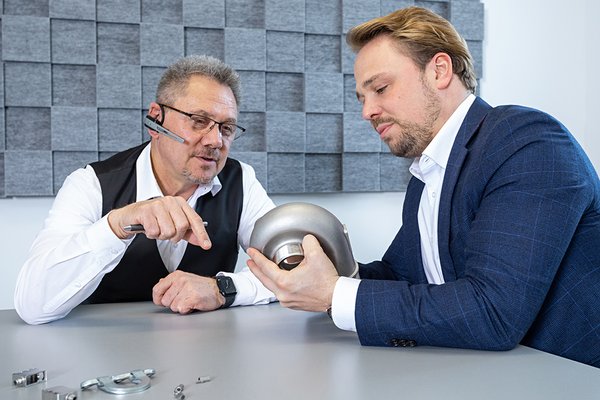 Richter Formteile: Full Service from one source
Expert advice
in each casting and forging process
No risk
through conformity with drawings and ISO-certifications
Optimal resource planning
through our international production network
Secure processing
as a German legal partner
Just in time delivery
ex warehouse Leonberg nearby Stuttgart in Germany
High process competence
through over 40 years of experience
Maximum economy
through optimal resource planning
Pre-financing
and storage of the complete annual requirement
Service – to suit your needs
Drop Forging Procedure
Drop forging process: Optimal fibre flow with first-class structural strength. We explain the exact process in detail (with video).